With the summer opening of Buckingham Palace to tourists on July 23rd, Kate Middleton, or the Duchess of Cambridge, will have her elegant, yet simply and timelessly created wedding dress designed by Sarah Burton of Alexander McQueen's fashion house, on display. (Click here to see what the Queen had to say about the display.)
Advanced ticket sales have already sold an astounding 125, 000 tickets priced at $28.53 each (setting a record). Along with the handmade dress which is displayed in the ballroom where the couple's wedding reception was held, tourists will be able to view the actual wedding cake (only the top 3 layers were replaced), her handmade high heels, a replica of her modest, yet perfectly chosen bouquet and the Cartier tiara full of 888 diamonds loaned to Ms. Middleton by the Queen.
To view all of the specific details of the dress and the wedding day photos, click here.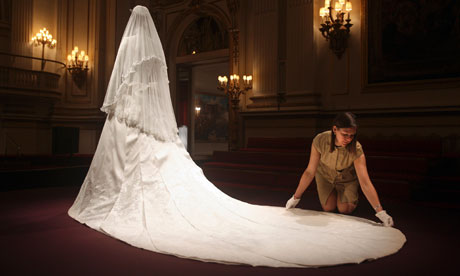 Caroline de Guitaut, curator of the exhibition display
{Receive additional simply luxurious ideas and inspiration by subscribing to the weekly newsletter. Click here to view a past issue and simply sign up by entering your first name and email address in the middle column to the right on the homepage of The Simply Luxurious Life blog. Each issue arrives promptly in your inbox early Friday morning or late Thursday evening depending on where you live.}
{Have a Twitter account and want inspiration throughout the day as well as being notified of the most recent posts on The Simply Luxurious Life? Follow me here @simplyluxurious. }
Images: (2) Source (3) Source (4) Source (5) Source (6) Source