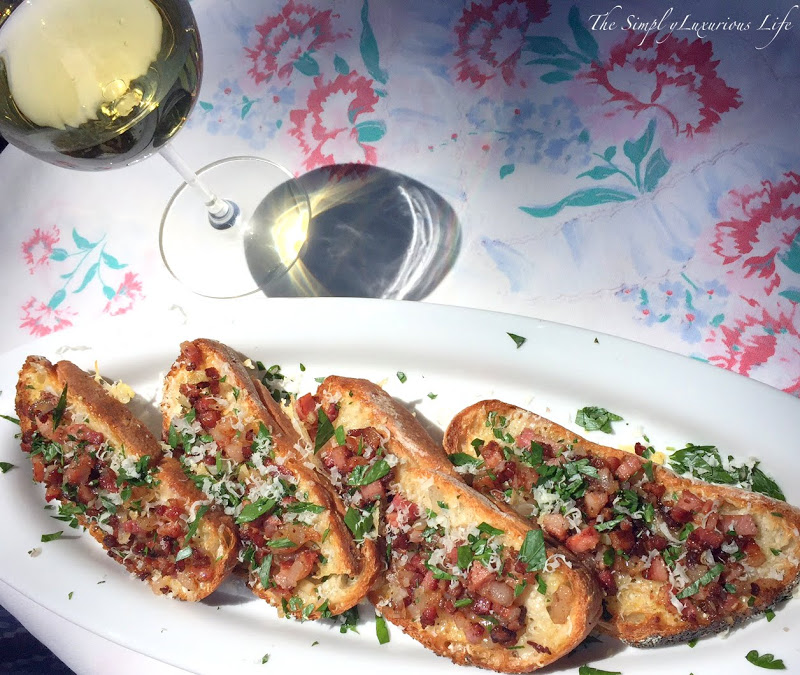 Pasta will always be my comfort food, and especially Spaghetti alla Carbonara. And so it caught my attention in Bon Appétit's Grilling issue this past June when they shared "ImPasta" grilled crostini recipes. Simply remove the pasta, keep the other flavorful ingredients and place on a grilled slice of delicious freshly made bread. Brilliant! While they shared a recipe for another pasta dish with clams, they suggested carbonara, and so I gave myself a challenge.
After looking at my Spaghetti alla Carbonara recipe, I selected the key ingredients, eliminated the eggs and below is what I came up with. A wonderful appetizer, full of flavor, salt, fat and buttery goodness, your guests and you as well will feel spoiled and absolutely satiated. Oh, and don't forget the glass of wine as well.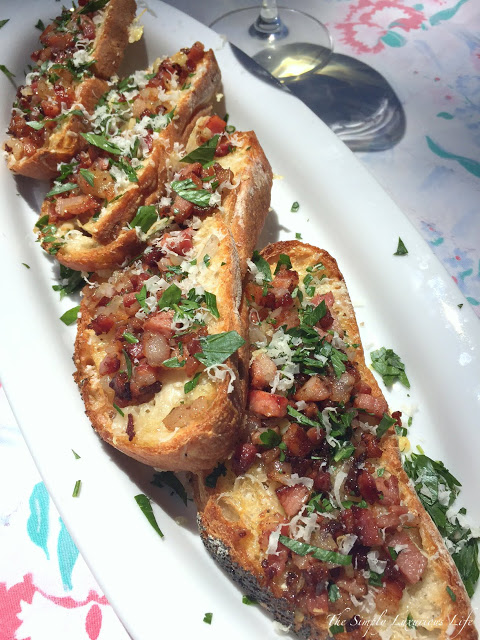 | | |
| --- | --- |
| | |
Preheat the oven to 400 degrees Fahrenheit. (You can also toast the bread on your grill if you are cooking outside.)

In a skillet on low-medium heat, place the diced pancetta and olive oil in the pan before it is at full heat (this will help render more flavor from the pancetta). Add the shallots and 30 seconds before you remove the pancetta and shallots from the pan, add 1 clove of finely chopped garlic.

Slice the bread on the bias, and place on a parchment lined baking sheet. Rub each slice of bread with garlic. Drizzle with olive oil, and place in the oven for 5-7 minutes. You want to toast until just barely lightly brown.

Once you see the bread is toasted (ever so slightly), remove from the oven. Turn the oven to broil, top each slice with 1/4 cup of parmigiana-reggiano, and place back in the oven until the cheese is bubbly and melted.

Remove from the oven, top each slice with the shallot, pancetta and garlic mix. Sprinkle with finely chopped parsley and serve warm. Enjoy!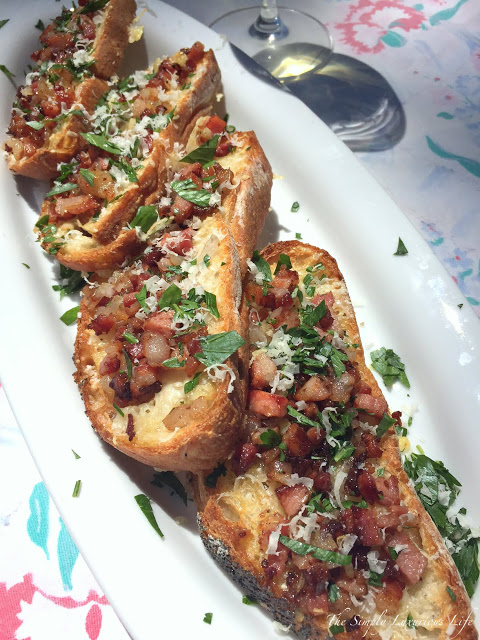 SaveSave