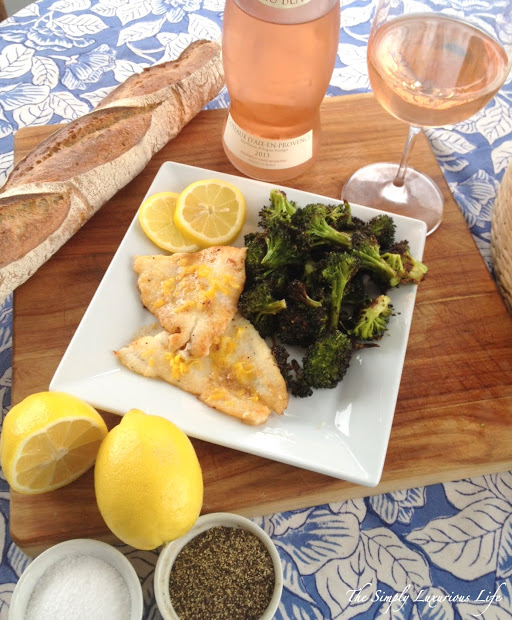 A beautiful, simple, French dinner that while looking rather complicated, is anything but. Sole meunière.
I will admit freely, I was first introduced to it upon watching Julie & Julia with Meryl Streep in one of the first scenes of the movie (see below). The sizzle, the sauce and the delicateness piqued my curiosity immediately.
I now regularly cook this dish, especially during the middle of the week. The subtle citrus and tender flavor satiate my palette each time. Have a look at the recipe below and be sure to pair with a crisp wine.
Sole Meunière
Time: 10-20 minutes
Servings: 2
Ingredients:
1/4 cup all-purpose flour
kosher salt & freshly ground black pepper
2 fresh sole fillets (3-4 ounces each)
3 tablespoons of unsalted butter
1 teaspoons of grated lemon zest
2 small lemons or 1 large lemon (3-4 tablespoons of juice)
Directions:
Combine flour with salt and pepper on a large shallow plate.
Pat the sole dry with a paper towel and then sprinkle with salt on one side.
Heat up 3 tablespoons of unsalted butter in a sauce pan over medium heat until it begins to brown.
Dredge both fillets in the flour mixture.
Place the fillets in the saucepan with the hot butter.
Cook for 2-3 minutes on one side until lightly brown.
Flip onto the second side and sprinkle fillets with zest and lemon juice. Cook for 2-3 minutes.
Remove from the pan and place on serving dish. Pour the sauce from the pan over the fish for additional flavor.
Serve immediately or cover with tin foil until remaining dishes for your menu are complete.
Garnish with chopped Italian parsley and/or slices of lemon.
~Wine as seen in the photos from Liner & Elsen, Chateau d'Aix-en-Provence Rose, 2013
~recipe for Roasted Vegetables (as seen in the picture)
~scene starring Meryl Streep and Stanley Tucci in Julie & Julia~