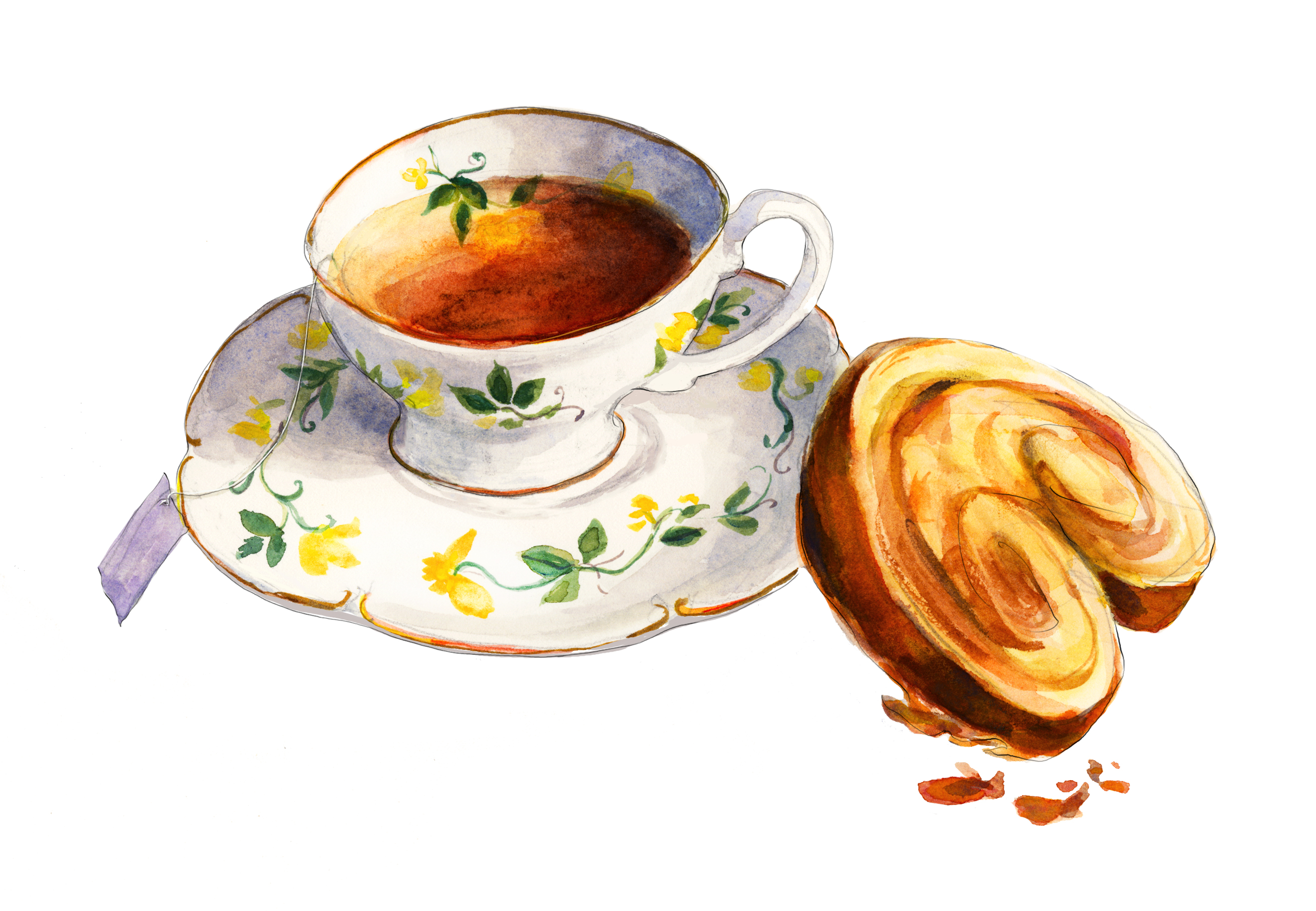 I must admit, sipping a hot cup of tea and nibbling on a buttery sweet palmier is a beautiful depiction of the sweet life (or should I say the simply luxurious life). And so it was the image below that inspired Inslee's newest illustration for TSLL blog.
~recipe for sweet (or savory) palmiers~
When readers stop by TSLL each day, each week or whenever their fancy is tickled to find inspiration for life, style, food or well, anything that is experienced in our everydays in which the focus is on quality rather than quantity, many have shared they do so while sipping something warm and slowing down to savor a simple pleasure. And so I wanted to offer an experience that enables readers to enjoy TSLL blog at a fair price if they would prefer to do so without the ads. And thus the price of a sweet palmier and a hot cup of tea (insert your favorite hot beverage and sweet nibble) came to mind.
At the end of this past summer, TSLL readers were surveyed about whether or not they would be interested in an ad-free TSLL reading experience. And after a positive response offering detailed feedback about what they would prefer if it was offered, I sat down and looked at how to tailor the subscription options to the requests of readers.
As many readers pointed out, they understand the reason for ads on blogs as it enables readers to experience for free the content that is created while ensuring the editors and writers receive compensation for their work. Some were not bothered by the ads at all, and some were. However, I also understand that sometimes knowing you can enjoy what you love to read, explore and seek to inspire you without the presence of advertisements would also be a luxury, and so two options are now available (and a special third option for a limited-time low price).
As you will see in the video below, when you subscribe (become a member) to TSLL blog, each time you visit, the blog (every page) will be entirely void of ads (header, footer, in-post, sidebar), except the ads in videos TSLL creates. Simply save your login, and so long as you are on the same device – laptop, phone, tablet, etc. – you will be logged in automatically and able to enjoy perusing without any distraction each time you visit TSLL. If you do need to login, the login button is located in the upper right-hand corner of the blog, above the header.
After a search for the best option for readers, my web designer introduced me to a user-friendly subscription option that enables you to manage your subscription easily and without fuss. You can start and stop your subscription at any time. And when you sign up for the monthly subscription service, it will automatically be deducted from your account on the same date each month. (Note: make sure you are viewing TSLL on its https – secure – url – here is the link to make sure as we just upgraded to a secure website).
Two Subscription Options: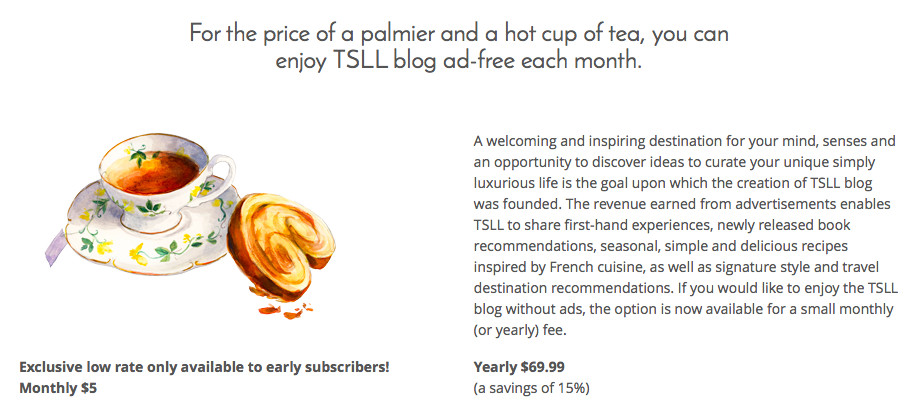 Have a look at the two videos below: the first, how to subscribe and what you should see on your screen all the way through to check-out; the second, what the blog will look like ad-free once you are a subscriber. (The early subscriber rate expired on November 7, 2017).
Discover how to subscribe, page by page
Take a look at what the TSLL blog looks like ad-free

Images: (1) illustration – exclusively commissioned for TSLL blog by Inslee, please do not use without permission (2) TSLL IG